This week, Fire Chief Mark McGavok and Instructor/Public Educator Layth Terry from Water Valley fire department visited the 2nd year Law and Public Safety classroom to discuss and demonstrate the personal protective equipment (PPE) that firefighters use when protecting our community. After learning about the Self-Contained Breathing Apparatus (SCBA) component of PPE, students were able to test out and demonstrate its capabilities.
December menus
DES Parent and Family Engagement Polar Express
DAVIDSON ELEMENTARY SCHOOL 12 Days of Christmas at DES
WATER VALLEY HIGH SCHOOL Christmas Around the World
Mrs. Upchurch's first period class won the trophy for high attendance for last week. The students received a donut breakfast and Mrs. Upchurch can wear jeans for the week!
FAFSA information
Mrs. Ford's kindergarten class
All of the WVHS Law and Public Safety students competed in building a first responder vehicle using only glue, popsicle sticks, construction paper, and markers. First year students were instructed to build a law enforcement vehicle based on either a car, truck, SUV, or Humvee. The 2nd year students were instructed to build a fire truck that included a water compartment and a firefighter compartment. All vehicles were judged by other students based on design, detail, and construction. In addition to this, the fire trucks must hold water in the water compartment, and a competition was held to see which apparatus would hold water the longest. All students did an outstanding job!!
8th grade Math students utilized their video creation skills to explain the concepts of decimal expansion and difference in rational and irrational numbers.
The Lego lesson this week was about sorting. Mrs. Logsdon's students discussed items they might sort at home. They used a Venn Diagram to sort the Legos and had to explain their reasoning for sorting the way they did. Thank you Mrs. Redwine for the fun lessons.
Mrs. Winters' first grade class has been learning and writing about pumpkin life cycles. They cut open two different pumpkins to compare and contrast and then incorporated the seeds from their pumpkins into some pumpkin artwork that showed all stages it's growth.
Happy Thanksgiving!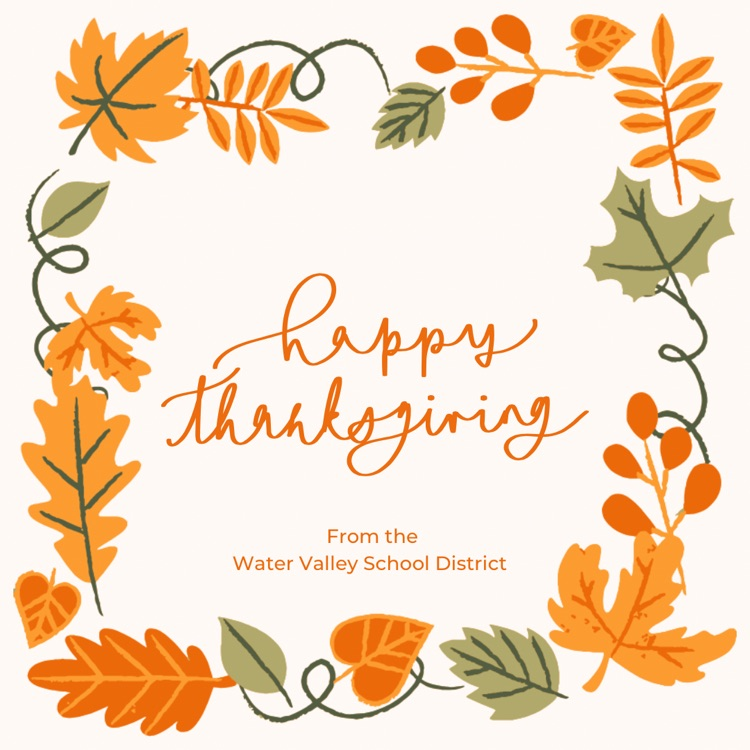 12 Days of Christmas at DES (beginning December 5, 2023
Thank you to Keshia Moore and her grandmother Ms. Vera Mae for feeding the DES staff today.We sure enjoyed the Thanksgiving feast they prepared!
Water Valley High School celebrates Friendsgiving and helps Coach Smith welcome a new addition to his family!
Water Valley High School celebrates Friendsgiving and helps Coach Smith welcome a new addition to his family!
Mrs. Logsdon's students enjoyed Friendsgiving. Students enjoyed friendship soup, pumpkin pie, cupcakes, and cookies. Students also shared one thing they liked about another student.
It's beginning to look like Christmas around the campus of WVHS! Thank you to the Agriculture students who assisted Mrs Richardson, Mrs Pegues and Mr Barnes today.
The Health Science students visited the Health Science programs at NWCC in Oxford today. We visited the Surgery Tech, LPN, and educational classes. The surgery tech students set up a surgery scenario and showed students skills they would perform in the career. They shared great advice on how to be successful in the programs. Administration discussed course requirements, skills learned in programs, and job opportunities. We appreciate all who took time share with us